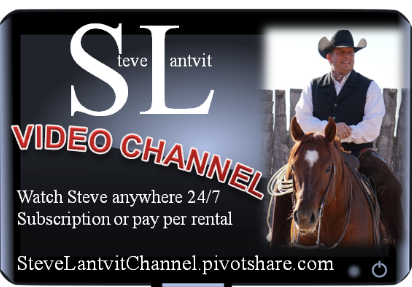 STEVE LANTVIT Renowned, award winning Horseman, Steve Lantvit, captivates the equine world with a fresh and innovative approach to training individuals and horses. Coupled with decades of experience and knowledge across multiple disciplines, Steve's training program is built on trust, gentle hands, and a true partnership regardless of the rider's discipline or experience.
Steve's teaching style provides his students with the "why" and not just the "how" or the "what" giving them the necessary tools to be successful on their own. His techniques are applied on the trail, ranch or in the show pen, with an emphasis on creating a light horse through correct timing and clear communication. Steve strives to help fellow horseman/woman achieve their dreams, overcome obstacles, and to challenge themselves to do the best by the horse and for the horse.

Traveling across the US sharing his knowledge and passion for horses, Steve enjoys conducting clinics, presenting at Expos, and brings his teachings right into your home with his television series, Steve Lantvit "Sure in the Saddle" airing on the Cowboy Channel M-F - check your local listing for time.