I am grateful for the knowledge he has passed to me to help me be a better rider and partner for my horse.
I love to watch you on RFDTV.. :) Thank you for showing us the real deal
You are very clear and easy to follow with your whys and hows.You are a gifted teacher.
Thanks Steve for getting out of my comfort zone and into some exercises that will help with body control.
I love how you explain so clearly and correct immediately!
Mr Lantvit thank you I learn a lot from your teachings and hope you continue on Great teachings God Bless your work
Renowned, award winning Horseman, Steve Lantvit, captivates the equine world with a fresh and innovative approach to training individuals and horses. Coupled with decades of experience and knowledge across multiple disciplines, Steve's training program is built on trust, gentle hands, and a true partnership regardless of the rider's discipline or experience.
Steve's teaching style provides his students with the "why" and not just the "how" or the "what" giving them the necessary tools to be successful on their own. His techniques are applied on the trail, ranch or in the show pen, with an emphasis on creating a light horse through correct timing and clear communication. Steve strives to help fellow horseman/woman achieve their dreams, overcome obstacles, and to challenge themselves to do the best by the horse and for the horse.

Traveling across the US sharing his knowledge and passion for horses, Steve enjoys conducting clinics, presenting at Expos, and brings his teachings right into your home with his television series, Steve Lantvit "Sure in the Saddle" airing on RFD-TV on Thursdays at 3pm & 11pm EST.
Clinics at Highgrove Farm Open for Registration
Checkout Clinics and Events Page for Info
May 19-20

2-Day Horsemanship Clinic

June 2 - 3

2-Day Ranch Versatility & Cattle Clinic
Sept 29 - 30
2-Day Advanced Horsemanship & Cattle Clinic
For listing of all go to our clinic and events page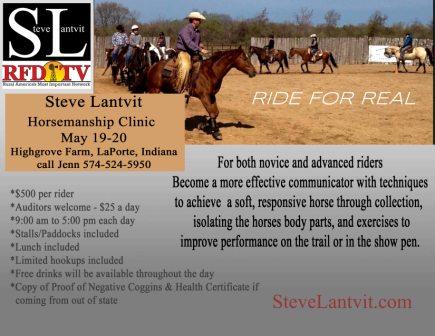 thanks for showing 'real' footage - keeping it real...
I love how you explain where your legs should be along with body positions.... you made it very easy to understand!!